For the next 30 days. Private Group Coaching for only $197 a month.
You can choose to have an extraordinary life as a Day Trader.
I have to start this off by saying, everything you need to succeed as a day or swing trader is already in The Day Traders Fast Track Program, I hold nothing back.
With that being said there are thousands of traders that recognize the need for additional help or guidance, that they need a coach or a mentor.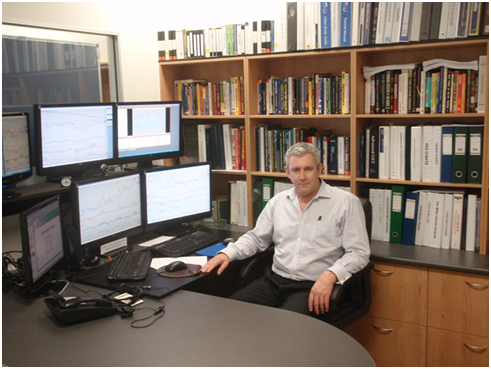 They want to be held accountable, they want a coach to push them, to mentor them in all aspects of trading, to help them deal with the roadblocks that many traders face particularly if trading has not been kind to them in the past.
Not a day goes by that l don't receive a request from a member of The Day Traders Fast Track Program or the general trading community requesting one on one private coaching sessions on how to master the art of day as they want that hands-on direct coaching and mentoring with me personally.
Many of these traders wish to further fast track their learning and understanding of all aspects of The Day Traders Fast Track Program and to be up and running in the shortest time possible and they know l can save them months, if not years of frustration.
They want to supercharge their learning with one-on-one personal coaching.
For true one on one personal coaching, I charge no more than what a good Attorney or Accountant would. $6997 for 4 x 2-hour coaching sessions however for most traders starting out this is out of their budget and even for the traders that can afford to hire me I still have a major issue and that is, there are just not enough hours in a day for all that l do, l only have 4 x 2-hour time slots for one to one coaching available each week during prime trading hours.
In other words, I can only coach two half days each week and some traders hire me for 2 or 3 days over 2 or 3 weeks, so l am booked out constantly for 2 to 3 months in advance.
(If you have $100,000 plus in your trading account, one on one coaching and mentoring is the best investment you could ever make)
Now the good news, l now a solution that suits all budgets and achieves the exact same outcome as my one to one coaching and mentoring.
Introducing my Master Trader Coaching Program.
You can join me LIVE online for my Master Trader Coaching Program.
8 x 2-hour live recorded group training sessions each month.
6 pm EST to 8 pm EST. Tuesdays and Wednesdays.
That's 8 x 2-hour live coaching sessions each month
16 hours of live group coaching and mentoring over 4 weeks and your investment for the next 30 days for
each month of private group coaching is only $197 a month. (Cancel any time after the first month). This is
less than $24.63 for each 2- hour live or recorded coaching session.
You can join the Master Trader Coaching Program at any time during the month. (To be clear, if you join say halfway through a month, the balance of your coaching sessions continue into the next month)
All sessions are recorded for later viewing should you miss a session or wish to review again at a later stage.
You watch, listen, and can ask questions as l explain potential trades from the last trading session and potential trades as they set up in real-time during the Globex session, you learn to trade with confidence as I explain each strategy, each setup, or technique step by step.
You may ask because the coaching is during the Globex (After hours) session, am l still going to gain the same benefits as if my coaching was during the fast-paced New York session?
My answer is absolute. We will still be recapping in detail trades from the New Your session and potential trades as they set up in real-time during the Globex session.
Because the markets during the Globex session is usually much slower, it's much easier to explain in greater detail a setup or strategy.
During the coaching sessions, you can type in and ask questions in real-time as l discuss the many aspects of the day and swing trading and you have the option of emailing me after the session with any questions that may remain unanswered as l also provide full email support.
The Master Trader Coaching Program is designed to meet the needs of the individual student or professional day trader regardless of their experience or markets they trade.
Our objective and my goal in these coaching sessions are to help you master the art of trading in the shortest possible time.
The Master Trader Coaching Program is designed to meet the needs of the individual student or professional day trader regardless of their level of experience or markets they trade.
Before joining the Master Trader Coaching Program each trader will need to complete a confidential, detailed questionnaire so l can tailor the coaching sessions as much as possible taking into account your personal requirements and experience as a trader.
The end result and my goal in these sessions are to coach and mentor you in mastering the art of trading in the shortest possible time.
If you miss a session or wish to review any session at any time, these sessions are recorded and are only available for viewing by the Master Trader Coaching Program members or my one-to-one coaching members.
Thanks to modern technology it does not matter where you are located for your coaching sessions as we use GoToMeeting where you can log in and see my screens.
In my training videos, you hear me state that trading is 90% psychology, 5% money management, and 5% your trading strategies and techniques. This is the very reason that in each coaching session as I teach you each of my strategies and techniques we will also be discussing in great detail techniques and ideas that will allow you to remain calm, focused, and disciplined as you trade.
So, what exactly will you learn during the coaching sessions?
If you review the agenda below you will note that many of the strategies, topics or subjects l cover briefly in the 2 bonus webinars that I present to new members of The Day Traders Fast Track Program, however due to time constraints we only just scratch the surface where we could actually spend hours on some of the topics which is exactly what we do in our coaching sessions.
During our coaching sessions, we cover dozens of trade examples from that trading day and I walk you through step by step how they should be traded.
(Please remember no matter what markets you trade, what you learn in these coaching sessions applies to your market of choice, the strategies l teach work on all markets and time frames)
In our Master Trader Coaching sessions, it's time to drill down and cover each of the following strategies and topics in detail:
Trend following strategies.
1. RO1 for Renko charts and RO2 for Range charts.
2. T1 Super Scalper.
3. 21B. 34B. 89B.
4. T2 – Sling Shot.
5. T7 with trend.
6. T25 – Fast Momentum-trend continuation.
7. 2B with trend. Trading EC EMA bounces when confirmed by an identical setup on the anchor chart.
Change of trend strategies.
How to recognize chop and welcome choppy/consolidation zones. (Choppy or consolidation zones in most cases lead to a trend continuation trade or change of trend trade)
1. T9 and T10 – Money on the floor.
2. T20 & T20-1
Counter Trend Strategies.
1. T7 How to Trade Double Tops and Double Bottoms.
2. T19 How to trade divergences.
3. T3/V trades – Snapback trading.
4. 1D and 2D, also known as Double divergence.
5. 200B and 200 EMA overshoots.
Profitable Classic Chart Patterns to use in your everyday trading.
Ascending and descending triangles.
Fractals and fractal trend lines.
Trend lines and micro trend lines.
Flags, channels, and triangles.
We will also cover:
The Psychology of Trading. Do not underestimate the importance of this topic. This is your make or break!
How we use NLP to master ourselves and our trading.
Why we review our trading at the end of each trading day and what we analyze and work on.
How to set realistic daily/weekly profit targets based on your account size.
Money and risk management.
Trading platforms, Brokers, commissions, and spreads.
Chart Types and my preferred charts and why. Renko, tick, range, volume, and time-based Charts.
Recommended chart Settings.
The Indicators l use and my recommended settings.
How to recognize and trade angulation and fanning of the EMAs. One of the most important topic – strategies in trading you will ever learn!
How to trade multiple time frames using both the entry/trading chart and an anchor chart.
The chart settings for the anchor chart.
How to trade pivot bounces.
Understanding and recognizing key support/resistance levels.
The Master Traders cheat sheet.
We analyze both winning and losing setups from over the last 24 hours as we look for real-time opportunities in the GLOBEX markets with a focus on CL, GC, NQ, JY, EC and ES.
Time permitting, we will also review past and present trading opportunities in the forex markets.
My coaching program is 16 hours of solid life-changing coaching for serious traders.
To join the Master Trader Private Group Coaching please click here »
I look forward to working with you and taking your trading to the next level.
For further information on my one on one coaching or Master Trader Coaching Program please feel free to email me directly. [email protected]